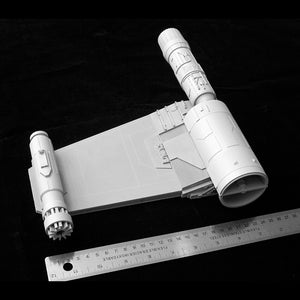 Aluminum, CPE and SLA Wing Assembly for 1/18 Hasbro Hero X-Wing Conversion
This set of wings is an accurate representation of the Studio Scale X-Wing wings scaled up to match the 1/18 scale. The wing assembly consists of 6065 laser cut 1.5mm thick aluminum wing sides, CPE FDM printed middle section and "connector" part, and SLA printed plant-on parts.
The package will include the following parts enough to build 4 wings:
 (Please note, the engine parts and laser cannon parts are not included in this listing.)
12 CPE parts – 3 parts for each wing
8 aluminum parts – 2 parts for each wing
52 plant-on parts – 13 parts for each wing
CPE parts connect and are glued in between the aluminum sections.
Plant-on parts:
The plant-on parts are attached to the wing assembly. Correct plant-on parts will be provided for all four wings. Instructions with parts placement will be included. Please note, some basic square shape plant-on parts are not included. They can be cut easily from sheet styrene. Their location will be specified in the instructions.
Below is an example of an assembled wing with the engine and laser cannon parts attached. Please note the engine and laser cannon parts are available separately.
A few notes: 
CPE parts are printed on an FDM printer and do not have the surface finish as smooth as the SLA printed parts. To improve the surface finish the parts might need to be sanded or skinned with thin styrene sheets
The aluminum parts have the score lines etched on the surface. The etching may not go as deep as desired. If you like to make it deeper you will need to scribe the lines with a sharp tool using score lines as a guide.
We suggest using an adhesion promoter for gluing all of the parts together.
---
We Also Recommend