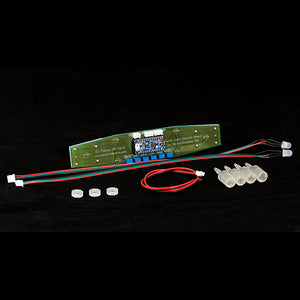 Engine Light Control Board for 1/2700 Revell/Zvezda Imperial Star Destroyer – FULL SET
This light control board will allow you to precisely set any color from the RGB spectrum and the frequency/rate of flickering individually for the main and the secondary engines of the starship as well as the amount of white (saturation). There are also two extra connectors for additional two 8mm LEDs. Their color can also be adjusted. They can be used to light up the hull or the hangar.
No assembly is required. The controller board comes pre-assembled, and ready to use. The modifications required to the kit are very simple. You will need to open up the engines to allow clear parts and LED to go through. The back of the engine block kit part will need to be lightly sanded for better adhesion to the pads.
This set includes the following parts:
An assembled circuit board with attached electronic components, connectors, LEDs with holders, and plastic parts
Clear parts to transmit the light to the engines and distribute it evenly, both for stock and for upgraded engines
A power cable
Two additional 8mm LEDs with cables and connectors attached
Two fiber optic couplers with 8mm LEDs
 The board attaches to the back of the kit part with two plastic pads and two-sided tape or glue. It can be removed later if needed by unscrewing the screws that hold the plastic pads.
Colors, frequencies and the amount of white can be adjusted by turning the trimmer potentiometers with a screwdriver.
The board can be powered up from any DC power source 5-6V. It has protection from power surges and reversed polarity.
The main part of the controller is Arduino compatible board by Adafruit. It uses an upgraded version of the bootloader which allows LEDs to start working as soon as the power is turned on.
Rotate the trimmer potentiometers to set your desired settings for color, frequency, and saturation.
Clear inserts for the main engines – available for the stock and upgraded engines:
---
We Also Recommend